EXCITING NEWS!
Graph Grapplers
is OUT! Please help me celebrate!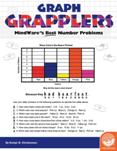 I'm also celebrating that my number
of publications (books and games) have now
topped 50 and my total books sold
have topped half a million!


I'm delighted you've come to my website! Hope you enjoy the puzzles, activities, and articles as well as the info about my books.

WRITERS--If you write for the education market, I have a list of Educational Publishers for you. If you write for children's magazines, check out my EZINE.

My non-writing goal as an author is to help other authors achieve their publishing dreams.

My writing goal is to make learning fun!


Developing materials that help children enjoy learning and that help make the teacher's job easier is one of my greatest delights.

Please check out my books, if you or the children you know would like to:
enjoy puzzling around with math or reading
strengthen critical thinking and logic skills
practice math facts in fun ways
improve mathematical reasoning
have some fun just stretching and exercising your brain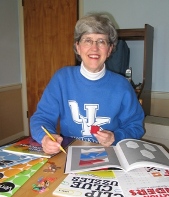 I hope you have fun with my creations! The levels of the books range in difficulty from pre-school to adult.


Evelyn B. Christensen
Author and Puzzle Creator



Inchimals won a
Teachers' Choice Award,
a Creative Child Award,
and a NAPPA Award




Aba-Conundrums won a
Parents' Choice Award
and a Creative Child Award



What Else is New?

Where I'll be when.

Every week I post new puzzles and activities for you.

October
Puzzles in Hopscotch, Boys' Quest, CHill Kids, & Pockets.

September
Look for my puzzles in CHill Kids and Fun for Kidz.

August 17th
Tina Cho interviewed me for GROG. Please check it out.

July
I have puzzles in Pockets, CHill Kids, Fun for Kidz, and Kid's Imagination Train.

May
I have puzzles in Pockets, CHill Kids, Fun for Kidz; a craft in Little Lutheran.

April
Puzzles in Boys' Quest, Kid's Imagination Train, Hopscotch, and CHill Kids.

March
See my puzzles in CHill Kids, Fun for Kidz, and Pockets, and a poem in Little Lutheran.

December 13th
Author guest at Half Price Books, Lexington, KY.

November 14th-15th
Enjoyed being part of the KY Book Fair in Frankfort. Check out my interview.

November 13th
Did a LCTM teacher workshop on my KY puzzles book. Fun!

November 8th
I was part of Barnes & Noble's "Awesome Authors Weekend."

November 7th
Shared my books at St. Peter & Paul School's Grandparents Day.

November 6th
Author visit: Ms. Kuyper's 5th graders. Did Aba-Conundrums.